Insulation & House Wrap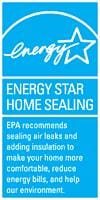 Total Home Comfort
How can you build a home that provides excellent comfort and energy-efficiency while controlling the damaging impact of moisture intrusion? With Owens Corning PINK FIBERGLAS insulation, Dow STYROFOAM & ProGuard Home Wrap Systems. They provide exceptional air and water holdout, optimal moisture vapor transmission, superior tear strength, outstanding surfactant resistance along with energy-efficient R-Value.
---
AttiCat
Insulate now. Protect your roof. Save money and energy.
Ventilation + Insulation = Fewer roof problems.
Trapped heat and moisture in the attic can severely jepardize the performance of a roof. The combination of insulation and ventilationsystem helps to feep excessive household moisture and heat out. As a result, the proper conditions and temperature are better maintained in FIBERGLASthe attic and on the roof deck throughout the year.
Attic moisture can cause:
Wet wood--sagging roof deck
Potential insect infestation
Mold, spores, fungi and mildew
Metal rust (nail heads)
Interior damage
Attic heat can cause:
Ice dams the prevent water runoff
Premature failure of roofing materials
Save energy and save money.
Did you know up to 40% of a home's conditioned air escapes through the attic? If your heating and cooling energy costs are going through the roof, there's an easy solution: Adding attic insulation and sealing air leaks can help cut heating and cooling energy bills by up to 20%.
Adding attic insulation: The most effective thing you can do to reduce greenhoPINK is greenuse gas emissions.
Do it for your roof...for your budget...and for your planet. Adding Owens Corning PINK FIBERGLAS Blown-In Insulation to your attic can reduce greenhouse gas emissions by over half a ton each year. PINK isTax Credit truly green.
The color PINK is a registered trademark of Owens Corning. THE PINK PANTHER ™ & © 1964 - 2010 Metro-Goldwyn-Mayer Studios Inc. All Rights Reserved.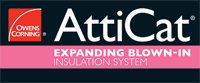 ---
With the invention of STYROFOAM Brand Extruded Polystyrene Insulation than 60 years ago, Dow was at the forefront of the green movement, beginning to mine and align the essential elements of today's green design with insulation, innovative systems and a growing portfolio of products and application-specific solutions for foundations, walls, roofs and more.
Rigid Foam
Rigid foam insulation from Dow is highly valued for a wide range of applications, from insulating buildings and geotechnical installations to enhancing thermal efficiency of panel and composite materials.
BLUECOR FANFOLD
BLUECOR extruded polystyrene insulation wraps your home like a blanket. BLUECOR insulation is specially formulated 1/4" thick extruded polystyrene board sealed between select plastic facings and produced in continuous 50' long x 4' wide fan-fold sections. The inherent flexibility of BLUECOR insulation allows corner-wraps without breakage or reinforcement, providing sealing effectiveness and a smooth level surface for new siding.
Nominal Board Thickness: .25
R-Value: 1.0
Board Size: 4 x 50
TONGUE & GROOVE
STYROFOAM Brand Tongue and Groove Insulation features tongue and groove edges on all four sides of 4' x 8' boards 1" thick on the long edges of all other boards. The lightweight, moisture-resistant and thermally efficient Type IV extruded polystyrene insulation is suited for a wide range of residential and commercial construction applications.
Nominal Board Thickness: .25
R-Value: 5.0
Board Size: 4 x 8

---
ProGuard house wrap is your siding solution product for your home. ProGuard Housewrap will assure you are protecting your home with a superior weather resistant barrier.
Using a quality housewrap is the "best practice" for protecting a home from wind and water while allowing it to breathe. PROGUARD makes it easy!
Stronger than ever, our wrap can be installed with staples.
Perm rating is appropriate for all climates
Not affected by surfactants, such as soaps, cleaning agents, detergents
Can be used under all types of products (e.g. vinyl siding, stucco and fiber cement)
Features 9-month protection from ultraviolet degradation
Lightweight and easy to cut
Translucent so you can see through the wrap where to staple or nail
Micro-perforated to allow waterborne vapor to permeate out through the wrap and into the atmosphere
Improves efficiency of wall insulation and seals cracks and seams in walls to reduce drafts for a more comfortable home
Woven, polypropylene wrap is both tough and tear resistant
Will not support mold growth
Meets or exceeds standards for all code approvals